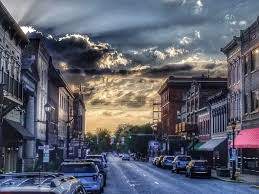 Greetings from Wabash, Indiana
.
.
From the travels and adventures of the 
"World's #1 Trackchaser"
The EventVideo PlusPhotos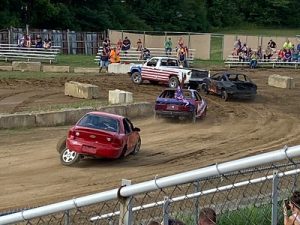 Wabash County Fairgrounds
Dirt oval
 Lifetime Track #2,625
THE EVENT
Editor's note: It's always fun to meet up with friends and relatives when I go trackchasing. Over the years I end up going to the races by myself about one-third of the time, with relatives about a third and with friends about a third of the time. It's very difficult to confirm plans in advance since I am usually flying standby and cannot give a 100% guarantee that I will make it….although my standby success rate exceeds 99%.
I AM A TRACKCHASER.
Are you new to the hobby of trackchasing? If so, let me give you just a little bit of background. Before I go any further I will tell you that a lot of people get pretty enthused about what I've been doing with trackchasing. I will offer this warning. If you try it yourself it could become addictive.
My name is Randy Lewis (above with a buddy of mine, Juan Ramirez, during one of my many trackchasing trips to Mexico). I hail from the sleepy little village by the sea, San Clemente, California. I am a "trackchaser". I trackchase. Have you ever in your life heard of "trackchasing"? I didn't think so. 
Trackchasing is a "collecting" hobby. Trackchasing is a "counting" hobby. It's really not all that much different than when you were a kid and you collected stamps or beer cans or bottle caps.
Trackchasing is all about visiting new auto racing tracks for the very first time. Believe it or not, trackchasing has "rules" as to what kind of racetrack and race car and race driver count toward your lifetime totals and which ones would not.
I'll try to oversimplify the rules situation for you. Trackchasers are allowed to count racing cars and trucks that compete on oval, road course and Figure 8 configurations. Any class that is racing, in order to count, must be open to racers 18 years of age or older.
This means that trackchasers cannot count racing down exclusively by kids. There are also various motorsports events and classes of cars that do not count. Trackchasers do not count drag racing, demolition derbies, motorcycle racing or boat racing. Just cars and trucks on ovals, road course and figure 8 tracks. Trackchasing does not allow the counting of flat go-kart racing either.
Before the hair on the back of your neck starts to stand straight up as you think one or more of these rules are just preposterous let me explain. First, I didn't set up these rules. I only count by them. The rules were set up in the 1990s by a group of white men who primarily hung out in Pennsylvania. I don't know that any of them had ever seen any racing on a road course or figure 8 track or maybe even a drag race, with a few exceptions, when the rules were established. There is one good thing about having a common set of rules. It allows each trackchaser to compare his or her list to the next trackchaser. Trackchasers like to do that.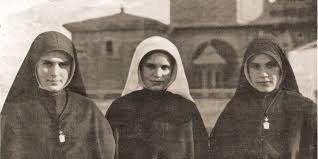 For me, I need three things in order to make my hobby hunt. First, I need a race date. Then I need good weather because folks in the U.S. often cancel racing events when it rains. Finally, I need a way to get to the track. I live in Southern California. The lion's share of racing events in the United States are located in the Midwest and east.
I trackchase just a little bit differently than my fellow competitors. For me, there are three essential elements to the enjoyment of trackchasing. First, I like to see auto racing. I prefer to see racing on what we call "short tracks" more so than a visit to Daytona, Indianapolis or Monaco. By the way, I've seen racing in each of those three iconic locations.
In addition to the racing part of trackchasing for me, I really enjoy seeing the local sights and sounds of whatever area I am visiting. I called these "Trackchasing Tourist Attractions". If you go to my website at www.randylewis.org and click on the Trackchasing Tourist Attractions tab you'll see where I've been all over the world. Here's a link to that tab.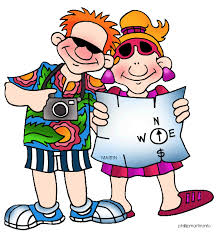 Trackchasing Tourist Attractions
The third and final reason that trackchasing is a lot of fun for me is simply the logistical part of the hobby. I have been retired for nearly 20 years. During that time I have not earned a single dime of work income. That means I have to manage my money pretty closely enable in order to be able to do what I do.
Logistically I have to handle seven different categories of trackchasing expenses. Those expenses include airplanes, rental cars, hotels, airport parking, gasoline, food and race tickets. As an example, you can just imagine what traveling from Southern California out to the Midwest for four days of racing would cost.
In any given year I will travel well over 200,000 miles. I'll stay in hotels 150-200 nights a year, rent 50-75 rental cars every year and buy a full tank of fuel about 100 days a year just for trackchasing.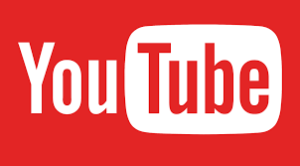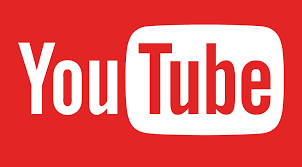 After each and every event that I attend I post a YouTube video, a SmugMug photo album and a very detailed Trackchaser Report about the experience. My stories are not just about what happened at the track but about my visit to the area and what exactly it took to make the trip happen. That's where the racing, the touring and the logistical challenges come from.
I told you that trackchasing is a "counting" hobby. Trackchasing is ultra-competitive as well. Lots of people don't recognize that when they are initially exposed to this hobby. Trackchasing has had all of the political drama, cheating, accusing people of cheating and other aspects of poor personal behavior that any other competitive activity might have. This is why I am NOT a member of any organized trackchasing group. The management of these groups has been so poor over the years these groups are not something I want to be associated with whatsoever.
As this is written I have seen racing in 85 different countries at more than 2,630 racetracks. During all this time I have never tried to benefit financially from my hobby. This is despite being interviewed by hundreds of track announcers, newspaper reporters and radio and TV outlets as well as doing a TV pilot. I'm a volunteer. I do this 100% for the fun of it.
Because I have seen racing in 85 countries at this point I am considered the World's #1 Trackchaser. That's good enough for me. Now I encourage you to drop down a few spaces and read about trackchasing adventure. As you discover what went on today just think about the idea that I've done this more than 2,600 times. I don't mind admitting I am addicted to that hobby of trackchasing.
Yes, today's adventure was one more of the 2,000 trips that have taken me up, down and around the proverbial long and dusty trackchasing trail.  If you would like to see where I've been and experience those adventures here's the link: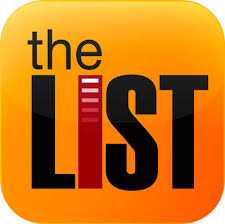 If you've got a question, comment or whatever please leave it at the bottom of this report.  It's very easy to do.  Or you can visit me on Facebook.  Thanks!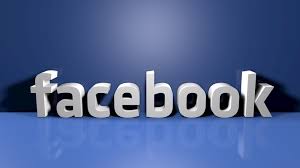 FOREWORD
Thursday, July 16, 2020.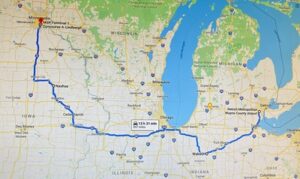 The plan is for this to be a simple trackchasing trip. Simple is good but it doesn't always work that way. Here are the facts. I will be gone for 58 hours. I plan to trackchase in three different states. I plan to fly into and out of three other states. I'll drive more than 1,000 miles. I will be gone for 58 hours.
Does this plan seem simple and straightforward to you? The above paragraph describes the reason why I have seen more tracks than anyone else in the world and just as importantly why no one will ever surpass my totals. Just saying.
Our son J.J. just bought a new house. Before this trackchasing trip could begin Carol and I needed to go up and meet JJ and his best buddy Dustin to check out the house. They live just two blocks or so from the beach, maybe less.
Following the house visit, we all went out to a Mexican dinner which was served outdoors due to the COVID-19 issues at hand. It was fun catching up with everyone. When we were finished Carol drove her car back to our modest seaside cottage in the sleepy little village of San Clemente. I drove the EEOC Credit Union sponsored 2020 Tesla Model X to my LAX World Parking garage. I've had an LAX World Parking trackchasing sponsorship for more than 10 years. This relationship has saved me thousands of dollars. It's made the airport parking experience a key part of my trackchasing plan for a long time.
Soon I was off on the redeye flight from Los Angeles to Detroit. Some people misuse the term, "red-eye" when referring to a tough plane ride. Let's try to keep this straight. A red-eye flight is when you fly overnight. It's when you fly when you would normally sleeping. Any questions?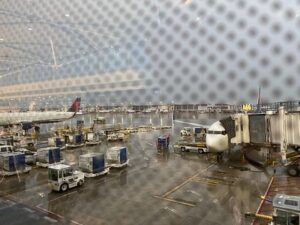 I landed in Detroit, Michigan at 6 a.m. local time on Friday morning. It was pouring down rain. I didn't care. I wasn't trackchasing anywhere close to Detroit. The weather forecast where I was going, Wabash, Indiana, was just fine.
I was going to be entering into a rental car contract with National Car Rental. My plan was to pick up the car in Detroit and drop it within the next 48 hours in Minneapolis. This is called a "one-way" rental. One-way rentals can be very expensive.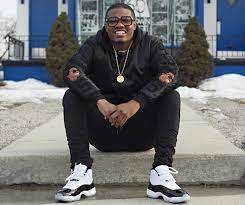 Just imagine that you had a friend who lived in Detroit. Your friend told you that you could use his/her new car for a couple of days. Do you have any friends who would let you do such a thing? It certainly not out of the question is it?
However, what if you told your friend in Detroit you would like to borrow his/her car for the next two days but you wouldn't be returning it to him/her in their hometown of Detroit. You had a different plan. You wanted to leave the car over in Minneapolis, Minnesota. Now would your friend be so willing to lend you his/her car? Probably not!
If you've got the time I ask that you go to your favorite travel website right now and see what a rental car would cost if you picked it up in Detroit and dropped it two days later in Minneapolis. If you can get a rate for less than $200 I congratulate you.
What was my charge for a two-day one-way rental? I paid $14.18. Yep. I have several sponsorship deals. I have a relationship with my partner, National Car Rental. Without my sponsors, I couldn't do what I do.
I planned to return my car in two days to Minneapolis at about 11 a.m. That meant that I had to wait around the Detroit airport until 11 a.m. today to get my car even though I had landed at 6 a.m. What did I do with the extra five hours? I got in a little bit of my 4 miles of daily walking. I took a little bit of a nap. I can always make do when I have time on my hands.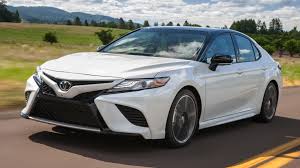 When I did pick up my National Car Rental Racing Toyota Camry I immediately headed down toward Wabash, Indiana. Wabash is a small town of just about 11,000 people and the county seat of Wabash County. Wabash is notable as claiming to be the first electrically lighted city in the world. They first got electricity all the way back in 1880! However some claim only the courthouse grounds were lighted. Who knows?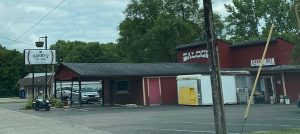 I soon pulled into the parking lot of a place called Harry's. I was meeting my good buddy Tim Lewis, who I am far as I know not related to. Tim was bringing along his buddy Frank. They both reside up toward North West Indiana.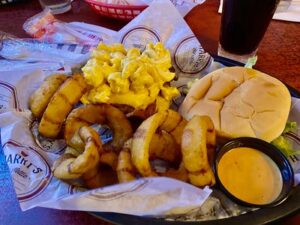 Harry's was a good enough place. It was a small-town sports bar and served a pretty good looking cheeseburger and macaroni and cheese combination. Tim bought dinner. Thanks!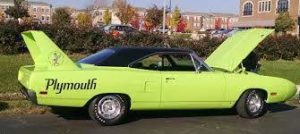 We chatted for a while. It was interesting to learn that Frank has had a 1970 Plymouth Superbird in the family for years. It's worth a pretty penny. From dinner, we made the short drive over to the Wabash County Fairgrounds.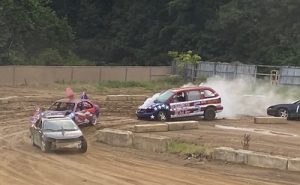 Although they have had trackchasing countable racing events at these fairgrounds in the past I only learned they were racing this year in the past couple of weeks. With COVID-19 the majority of fairs have canceled their entire fair for 2020. Tonight's racing show would be classified as "bomber racing" on a small dirt oval. They were also planning to have trailer racing.
The local uniformed police department was collecting five dollars for spectators to park. However, Tim's car pulled in in front of me. I think they gave the police officer the high sign. When I approached the policeman he simply waved me on through. It's good to know local people!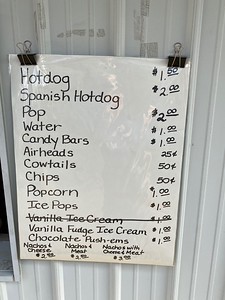 Tonight's general admission charge was the standard $10 per person commonly charged for these kinds of shows. As we headed toward the grandstand I noticed an unusual item on the concession menu. This was unusual, especially for the Midwest. The food stand was selling a "Spanish hot dog" for two bucks. Maybe I have, but I doubt it. I don't think I've ever seen a Spanish hot dog on a menu before.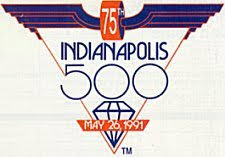 This was the second-ever small track race that Tim had seen. He and Frank are regular attendees of the Indianapolis 500 as most of Indiana's boys are.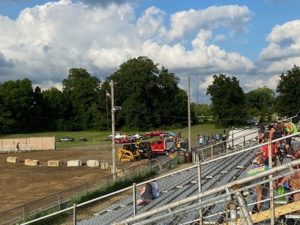 I've seen racing at more than 500 county fair locations across the United States and Canada. Almost all of those shows are performed before a nearly sold-out crowd. That was not the case tonight. There were very few people in the grandstands. I might estimate 100 or so. It's very possible, no likely, the coronavirus scare has affected the crowds.
The program was pretty simple. They had a race for about six competitors in the four-cylinder division. There were maybe three times that amount in the six-cylinder division. I won't say too much about the racing here. It was basic but some of the crashes were entertaining. I recommend that you take a look at the YouTube video I produced to see exactly what the racing was like.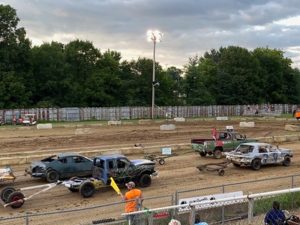 I've probably seen 8-10 trailer races over the years. Tonight's five entry group might have been the most muted of all. Technically I guess they were towing trailers. In reality these were very small all-steel tubing attachments. I would hardly call them trailers.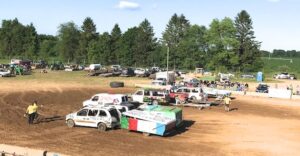 In the past, I've seen trailer races towing all kinds of things. I've seen 24-foot boats on trailers hauled all around the track at high speeds and much more. When you're with your friends you always want them to see the very best show. Sadly it turns out so many times the show misses the expectation.
Nevertheless, Tim did say that he enjoyed the show tonight more than the event that he and I attended last year in Cassopolis, Michigan. Here's the backstory on his first-ever small track visit.
When I entered the grandstand at the Cassopolis, Michigan county fair race I sat down next to Tim somewhat but not totally randomly. We struck up a conversation and found that we had quite a bit in common. We watched the racing and then afterward went out and sat down on a park bench. There we talked for another couple of hours! I always enjoy meeting and conversing with folks I meet over the long and dusty trackchasing trail.
We did the same thing tonight. After the races, Tim, Frank and I went out into a dark parking lot and chatted about the political events of the day. We didn't always agree on each other's point of you but we listened politely!
With that Tim and Frank headed back toward northern Indiana. Tomorrow night's racing for me was going to be all the way up it Nashua, Iowa. Nashua would be a seven-hour drive from Wabash.
I had wanted to get as much of that drive behind me this evening as possible. However, after a two-hour conversation in the parking lot with my buddies the best I could do was drive one hour up toward Plymouth, Indiana. After sleeping overnight on an airplane on the way to Detroit last night my hotel bed was going to feel mighty good tonight. It did. I told you this was going to be a simple trip.
Good evening from Wabash, Indiana.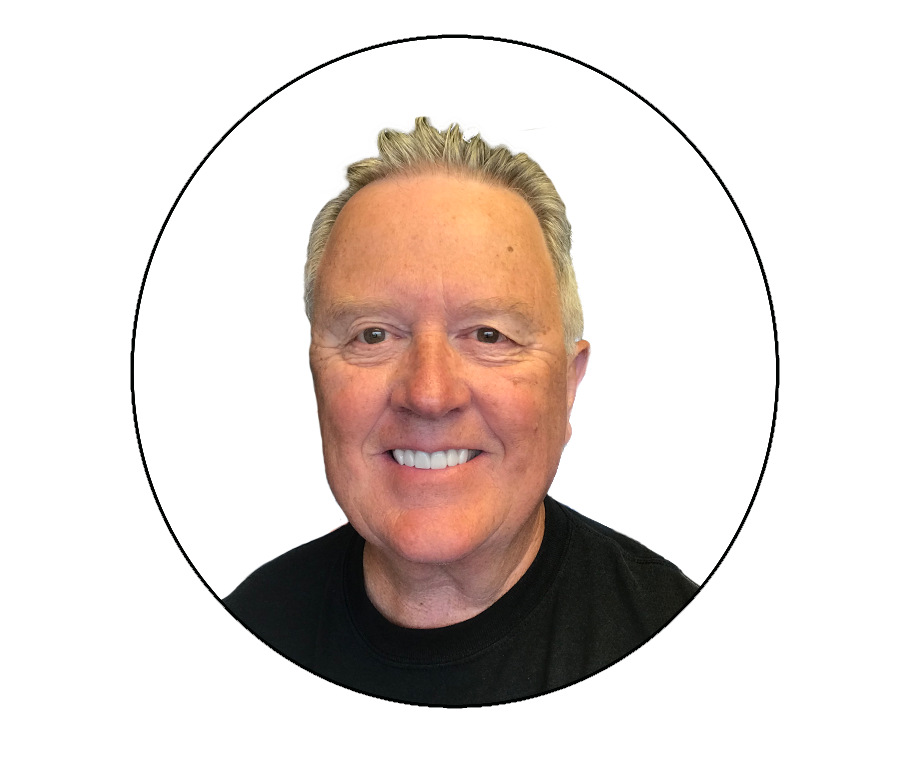 Randy Lewis – 85 countries – 2,625 tracks.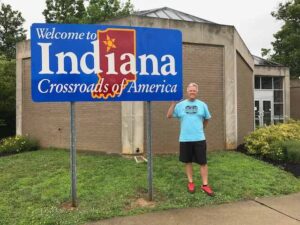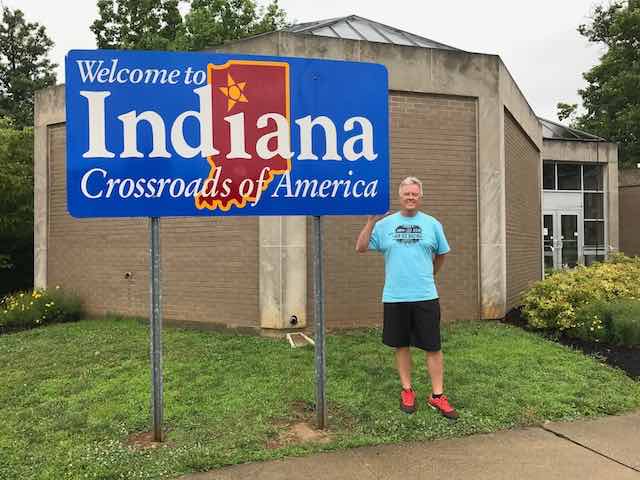 Indiana
The Hoosier State
This evening I saw racing at my 121st-lifetime track in the Hoosier State, yes, the Hoosier State.  I hold the #2 trackchasing ranking in Indiana. Indiana ranks #3, amongst all the states, in tracks seen for me in the U.S. Indiana has one of the strongest county fair racing situations of any state I visit.
Here's a link to my all-time Indiana state trackchasing list. I have made 82 separate trips to Indiana seeing these tracks.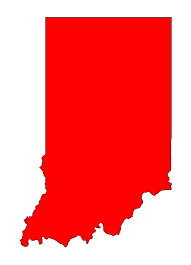 Thanks for reading about my trackchasing,
Randy Lewis
World's #1 Trackchaser
Peoria Old Timers Racing Club (P.O.R.C.) Hall of Fame Member
Indiana sayings: "Ladies and gentlemen, start your engines."
Timeless as it is, the Indianapolis 500 also reflects the times. When Janet Guthrie became the first woman to start the race in 1977, longtime speedway owner Tony Hulman revised his ritual pre-race PA directive to the field of 33. After some debate, he settled on, "In company with the first lady to qualify for the Indianapolis 500, gentlemen, start your engines." Which has a kind of convoluted Victorian elegance, but not the more succinctly satisfying ring of the version into which the phrase has evolved.
JUST THE FACTS
LIFETIME TRACKCHASER COMPARISONS 
The three most important trackchasing comparisons to me are:
Total lifetime tracks seen
Total "trackchasing countries" seen
Lifetime National Geographic Diversity results
Total Lifetime Tracks
There are no trackchasers currently within 760 tracks of my lifetime total.  Don't blame me.
Randy Lewis, San Clemente, California – 2,625
Total Trackchasing Countries
My nearest trackchasing competitor, a native of Belgium, has seen racing in more than 30 fewer countries compared to my lifetime total. 
Randy Lewis, San Clemente, California – 85
Current lifetime National Geographic Diversity results
Randy Lewis, San Clemente, California – 3.96
That's all folks!  Official end of the RLR – Randy Lewis Racing Trackchaser Report
Click on the link below to see the video production from the racing action today.
Click on the link below for a photo album from today's trackchasing day.  You can view the album slide by slide or click on the "slide show" icon for a self-guided tour of today's trackchasing adventure.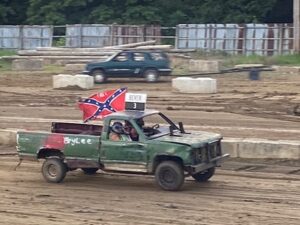 Another fine day/night of trackchasing in Indiana